Description
Ages: 4 and up
Grades: PreK and up
How It Works:
Individual picture cards can be used on their own or as a complete picture scene set to target many language goals including sentence formulation, use of nouns, verbs and verb tenses, pronouns, adjectives, prepositions, temporal concepts, main idea, exposure to basic concepts, and more. Below are a few different ways Spark Cards can be used, and you can create your own ideas as well!
Articulation:
Circle objects with target sounds in the picture scenes. Practice the words or phrases. Have the child tell a story about the scenes.
Expressive Language:
Increasing Vocabulary: Label basic vocabulary words and objects in pictures. Describe, categorize and expound on the concepts.
Sentence Structure: Have the child formulate a sentence for each picture card. Give the child a word to use to formulate sentences. Work on increasing MLU by increasing the length and complexity of the sentences.
Telling Narratives: Teach a child how to tell a story. Focus on story elements such as character, setting, plot, climax, and conflict. Have the child formulate sentences, use conjunctions and transitional words to tell the story in sequential order.
Main Idea: Have the child identify a title for a set of story cards and/or tell a main idea for each picture illustration.
Use of Pronouns: Circle the characters in the picture cards. Have the child practice using pronouns correctly when formulating sentences about the characters.
Verb Usage: Line up several cards and work on past, present, future tense verbs. Work on verbs, plurals, and irregular plurals while describing the picture cards and formulating sentences about them.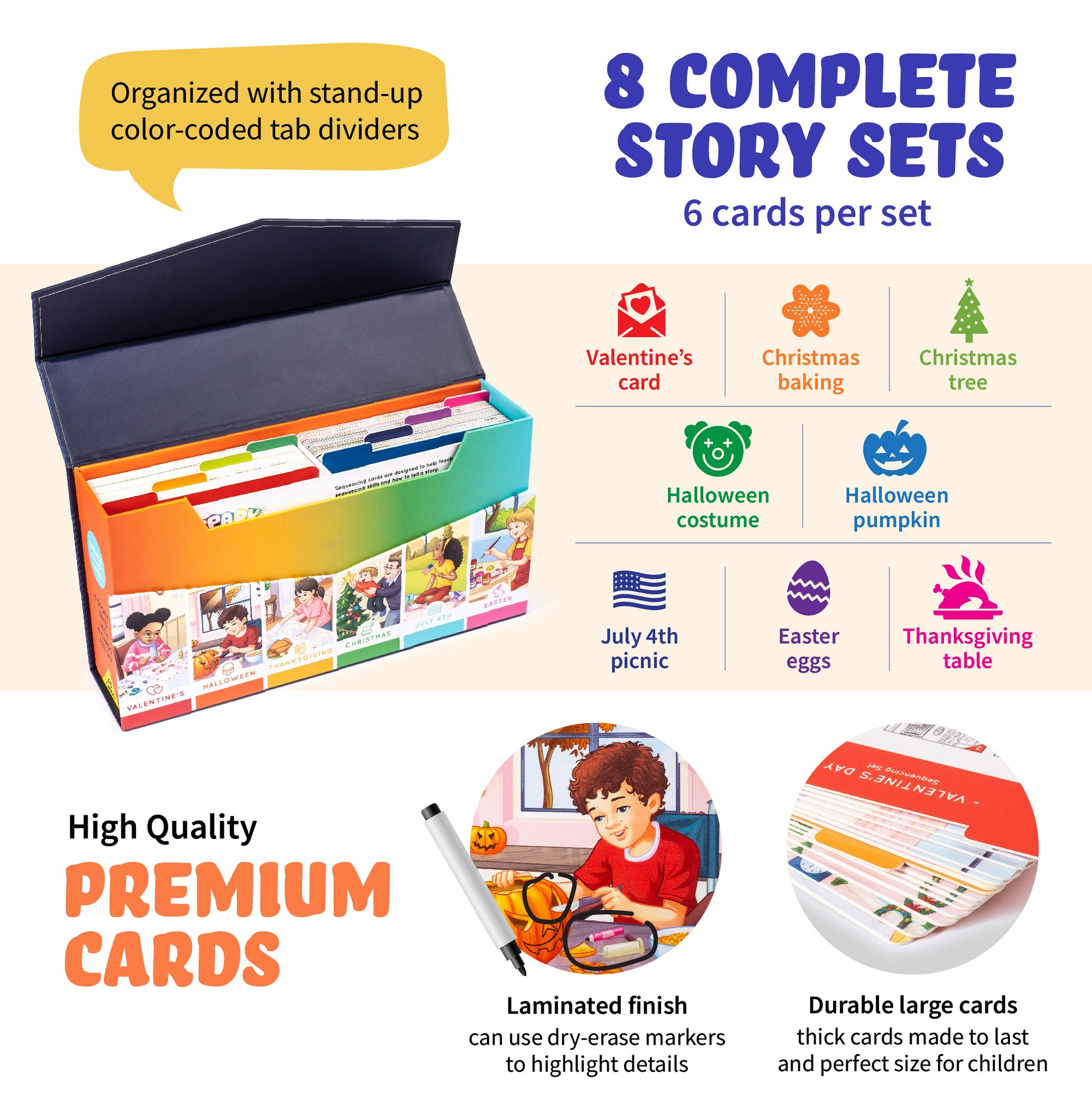 Receptive Language:
Sequence It: Have the child set the cards up in the correct order using inferencing skills to infer the correct order of the cards.
Answering 'wh' Questions: Using the prompt cards, ask 'wh' questions such as 'who,' 'what,' 'when,' 'where,' 'why,' and 'how.'
Social Skills:
Emotions: Use a marker to make thinking bubbles and/or speech bubbles to illustrate what the characters might be thinking, saying and feeling.
Problem Solving: Work on cause and effect and possible solutions to solve the problems depicted in the pictures.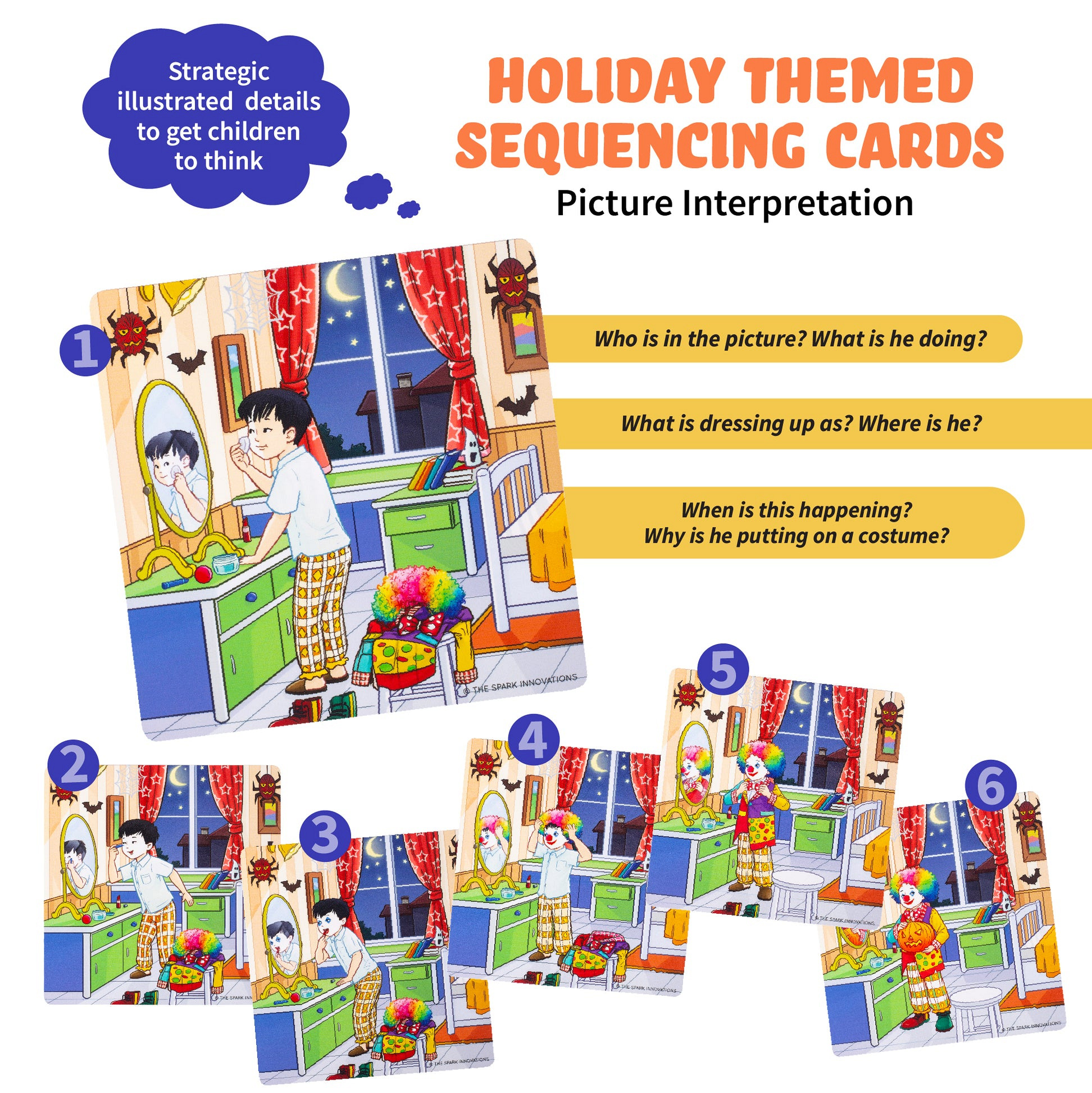 What's In The Box:
Spark Holiday Sequencing Cards includes 8 story sets with 6 cards in each set.
Valentine's Day
Decorating Easter Eggs
July 4th Picnic
Halloween Costume
Halloween Pumpkin
Thanksgiving
Baking Christmas Cookies
Decorating A Christmas Tree
These high-quality cards are child friendly and made of strong card stock so they won't rip. Large 4.5″ x 4.5″ cards for easy viewing. Each box contains an answer key with a question guide for each picture. TIP: Use a dry-erase marker to highlight picture details while working with your child. Dry-erase markings are easily erasable so cards can be used again and again.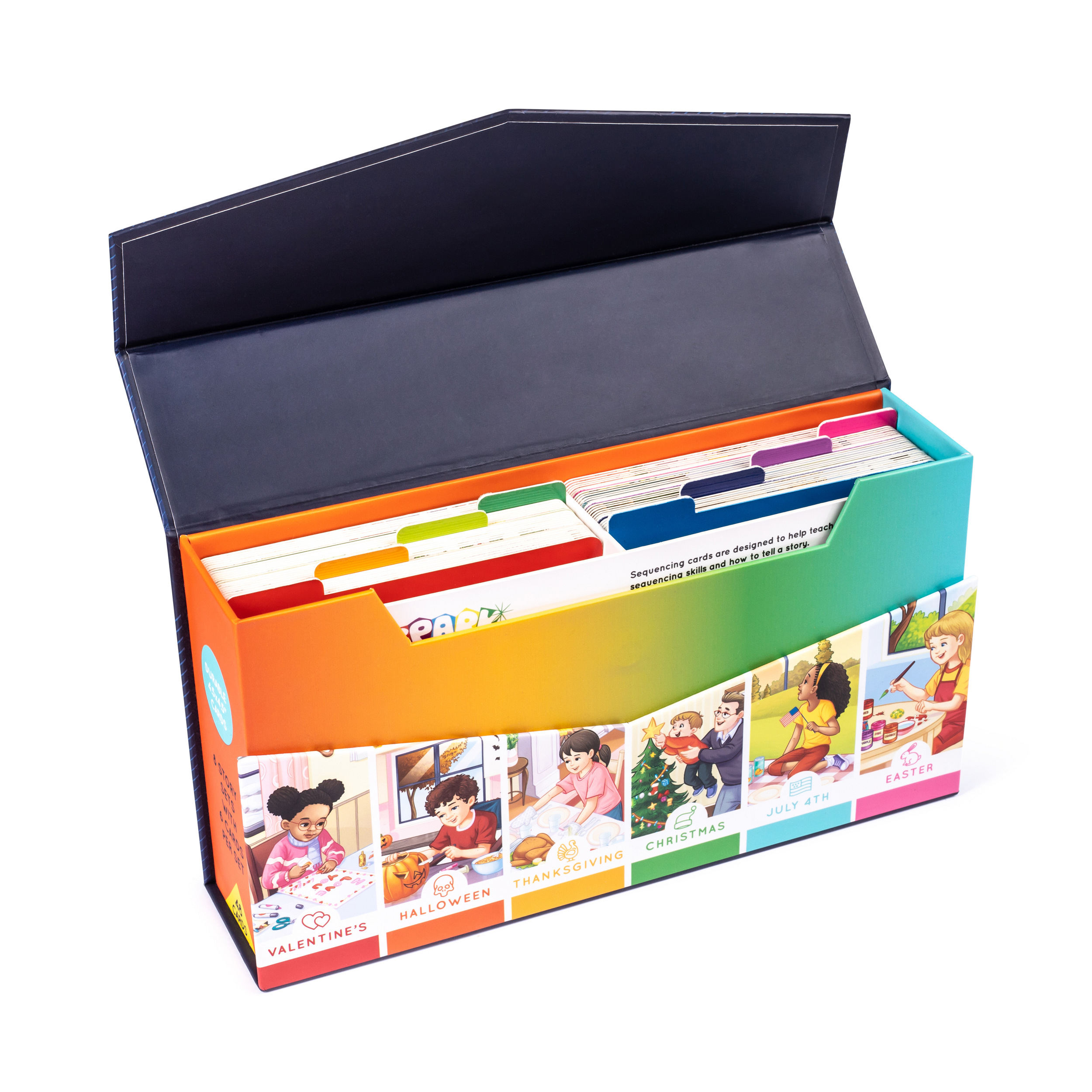 Target Age Range: 4 and up
Adaptable for all ages! Spark Cards are a perfect speech therapy game for classroom and center-based activities, individual therapy sessions, and at home with parents and the entire family. The skill level of cards is adaptable to many levels by simply trimming or using all the cards in a set. To achieve higher level skills and critical thinking, use all 6 picture cards as a set. The sets can also be trimmed to 3-4 picture scenes by removing 2-3 picture cards for lower-level sequencing and story retelling. The complexity of the questions can also be adjusted according to the age and skill level of the child.